Sadsbury Township, Chester County, PA
Sadsbury Township Municipal Building
The Sadsbury Township Business Office is open Monday through Friday from 8:00 AM to 4:00 PM.  The township office is closed on major holidays.
To make trash or sewer payments after hours or on weekends, there is a drop-box conveniently located right outside the main entrance of the Municipal Building.
Sadsbury Township Supervisors meet on the first Tuesday of each month at 7:00 PM
"In light of recent events, Sadsbury Township would like to clarify that it did not authorize any of the comments posted by a police officer on the internet.  Those comments do not, in any way, reflect the views, positions or opinions of the Township. The Sadsbury Police Department remains steadfast in its sworn duty to serve and protect every resident and visitor of Sadsbury Township."
Keystone Valley Fire Department 8
Request for Proposal (RFP)
Household Hazardous Waste Event for Chester County residents on  FRIDAY, JUNE 24, 2016 COATESVILLE LEARNING CENTER
1635 East Lincoln Highway, Coatesville, PA 19320
(Stone wall entrance-Veteran's Drive-Same entrance as CAT Brandywine – Route 30 across from Dairy Queen)
The collection site will be open at
9:00 AM and will close at 3:00 PM sharp.
Supervisors are accepting applications and resumÉs for One Zoning Hearing Board alternate. Please contact the township office for more information.
---
ROUTE 30 MULTIMODAL TRANSPORTATION STUDY DRAFT REPORT NOW AVAILABLE  – COMMENT DEADLINE 6/13/16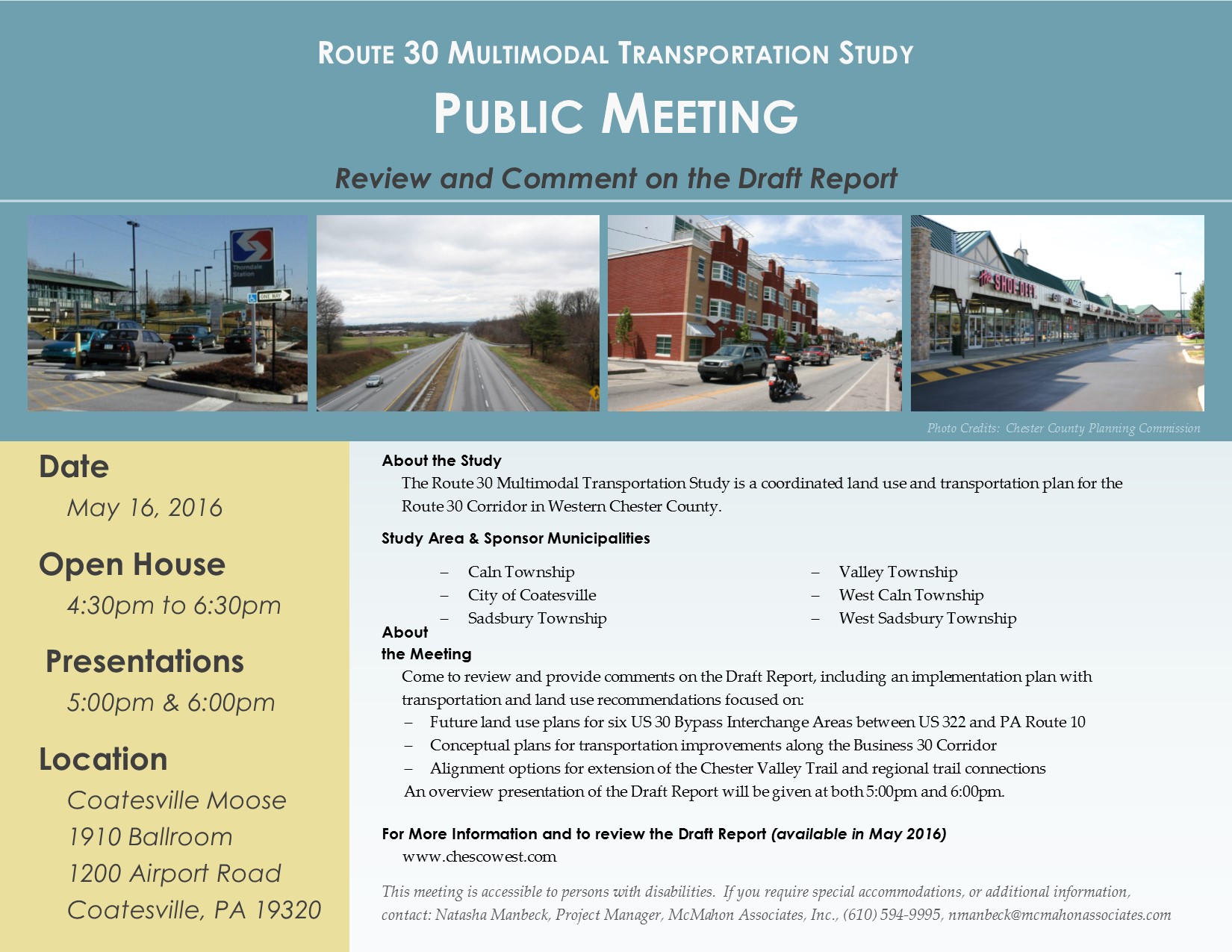 ---
  Township Quick Facts
Year of Incorporation: 1717
Population at 2010 Census: 3,570
Size: 6.17 Square Miles
School District: Coatesville Area SD
Municipal Property Tax Millage: 1.30
US Senate: Senator Robert P., Jr. Casey (D)
6th Congressional District of Pennsylvania:  Ryan Costello (R)
Pennsylvania House District:
74 Harry Lewis, Jr. (R)
Pennsylvania Senate District:
19 Andrew E. Dinniman (D)
Sadsbury is a Second Class Township, a designation that is determined by population. Townships are the oldest form of organized government in the United States, dating back to the 17th century. William Penn began establishing townships in Pennsylvania as early as 1683, with about 10 families to each. Even though townships now consist of more than 10 families, they are still governed by a few elected local residents who provide the functions necessary to protect the health and safety of the residents. Today, the 1,456 townships of the second class represent more Pennsylvanians than any other form of government.